Who says you can't see dolphins in Ireland?!
May 14, 2013 | By Collette Peck
He's one of Ireland's most famous residents, and visitors and locals alike can't get enough of him.  No, he's not Ireland's beloved Saint Patrick or U2's front man, Bono. Nor is he one of their hunky Hollywood actors, Colin Farrell or Michael Fassbender.
Fungie, people… is a dolphin.
But he's not just any dolphin. He's practically part of the family. Since 1983, this friendly dolphin has engaged and entertained visitors and locals alike, at his home off the coast of Dingle, a picturesque harbor town in County Kerry.  In fact, he's so adored by the locals they even built a statue in his honor.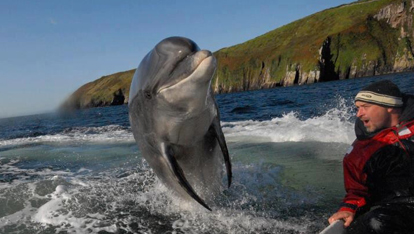 The best way to see Fungie is to take a boat tour and watch him splash about in the sea. So regular are Fungie's appearances that you won't be charged if he doesn't show.
In fact, a few other dolphins have decided to take a trip to Ireland this year.  Swimming up the Shannon Estuary they frolicked and played near Bunratty Castle and the famous Dirty Nellies pub, causing a sensation among the locals.
The warm waters of the Gulf Stream that keep Ireland green probably have a lot to do with these 'normally' warm water creatures.  But they believe that Fungie may have been orphaned in these waters because he's never left in over 30 years.  Just one of the many surprises you'll find on your trip the the magical land of Ireland. 
I'm Irish Tourist Board certified and have traveled to Ireland many, many times.  Call me today and I'll make planning your trip to Ireland much easier!  Collette Peck 866-327-7600